TYPICAL USES:
COLD STORES, WELDING BOOTHS, DOORWAYS
Retail and Commercial environments benefit from the most commonly used roller shutters. Available in solid or perforated curved profile they can be manually self coiling or electrically operated for ease of use. Perforated roller shutters are an ideal solution for security when a high level of visibility is required. Available in colour polyester powder coated or standard galvanised finish.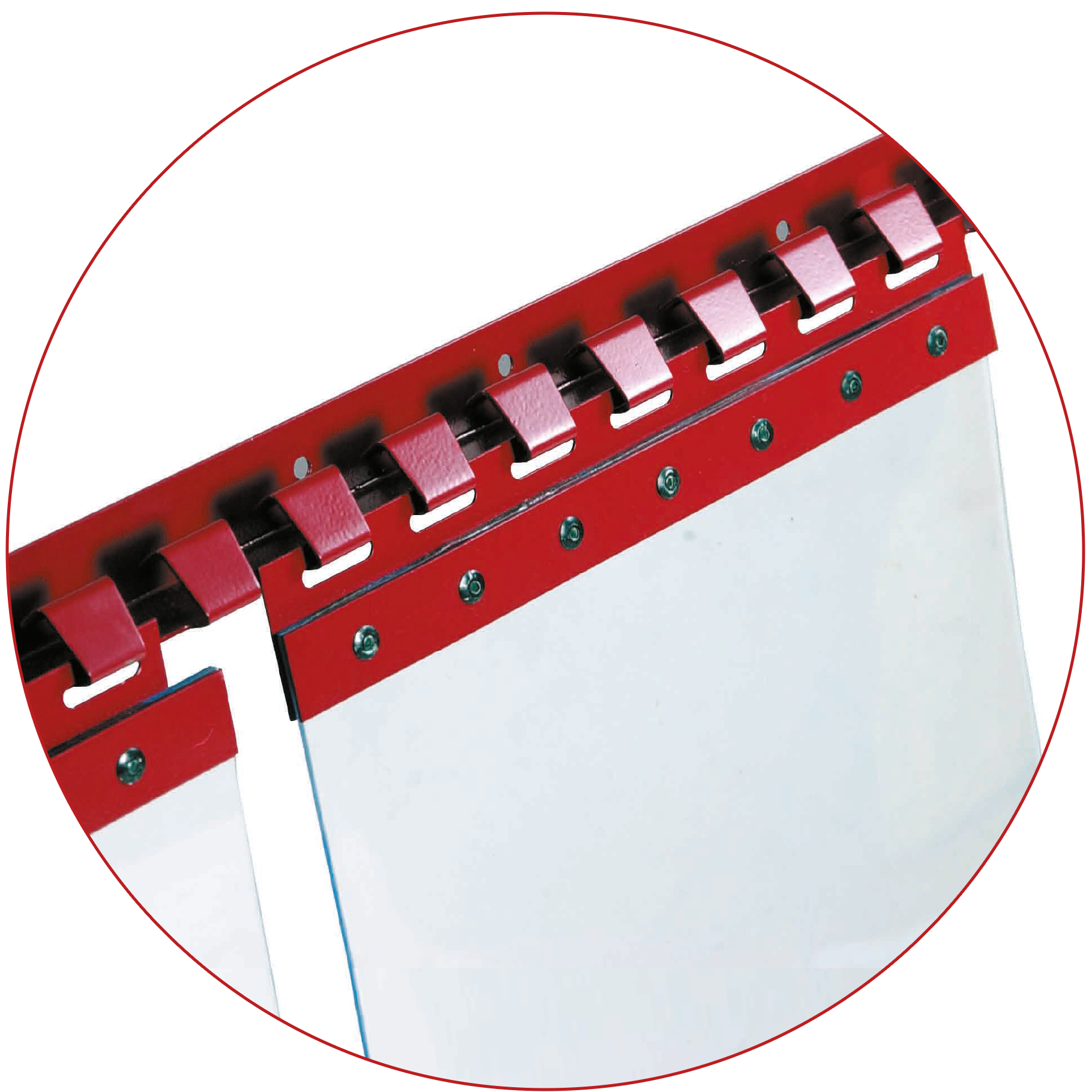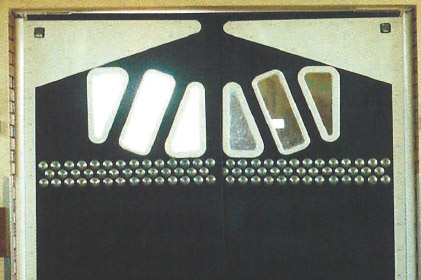 PVC CRASH DOORS FRAME
The framework is manufactured from 43mm O/D (32mm I/D) heavy wall steam tube with a 5mm horizontal triangular shaped mild steel gusset plate of varying size (according to width of door). A separate clamping strip is used to clamp the flexible pandelin position, and is held in place with special mild steel rivets and collars. An adjustable bearing is fitted to the bottom of the vertical tube to locate onto a hardened steel cone secured to the floor
PVC CRASH DOORS SPRING UNIT
The double action spring unit is concealed within the top of the vertical tube. The coil is of a high quality spring steel, and is held between the best malleable iron bearings on a 19mm diameter mild steel spindle. The spindle is welded to a mild steel plate 200mm x 51mm x 6mm for fixing to the lintel. The tension of the coil can be adjusted to suit on site conditions, without being overstressed. One unit is fitted to each floor leaf. Constructed from 75mm wide curved interlocking galvanised steel lath with mild steel endlocks and galvanised steel bottom rail.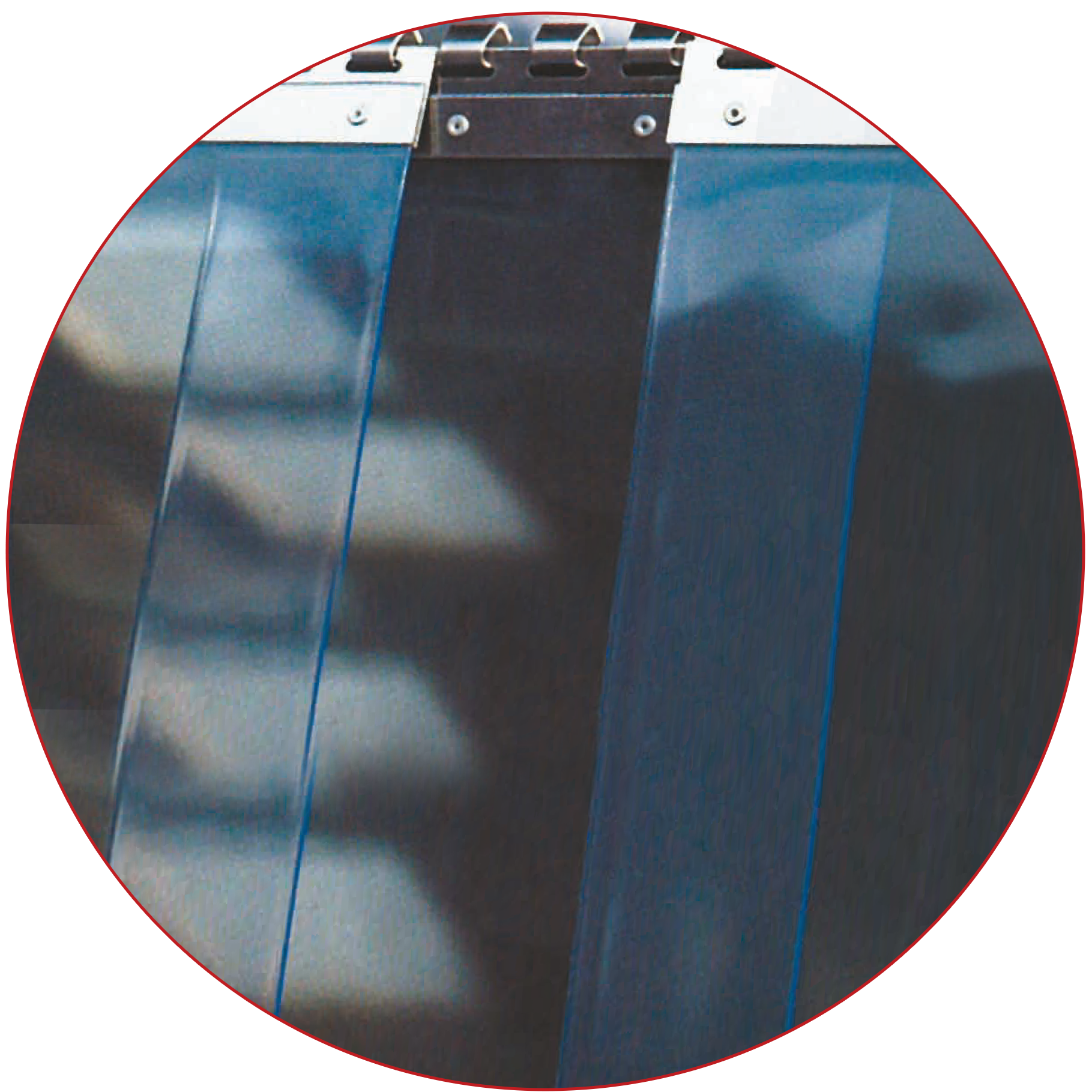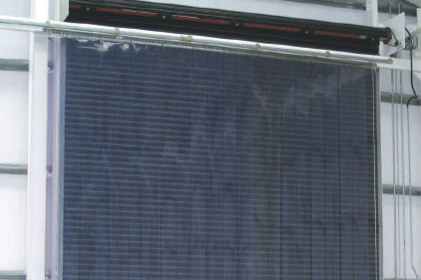 PVC STRIP CURTAINS INFO
A glass-clear, ultra-violet stabilised and abrasive resistant PVC material, extruded with round edges to reduce the possibility of injury to pedestrians. The material is flexible, tear resistant and flame retardent,(complies with BS 476 part 7).
Artic quality for cold stores and chilled room applications.
Orange standard quality width markers for aperture definition.
Buffer quality for extra resistance to the constant buffeting by heavy loads or forklift trucks.
Transparent Green allows through access and vision but safety inhibits welding flash.